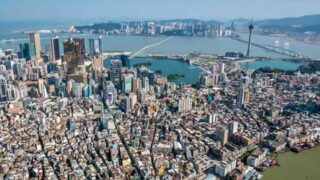 Macau can expect "relative political stability and a reviving economy" this year, suggests the 2017 Asia Risk Assessment from Steve Vickers and Associates Ltd, a specialist risk mitigation, corporate intelligence and risk consulting company based in Hong Kong.
But the document adds that "Beijing's current preoccupation with curtailing capital outflows, rising economic nationalism and the outside chance of a terrorist attack" on a Macau casino "still pose threats".
The paper looks at risks for investors regarding 12 regional jurisdictions, including Macau, Hong Kong and mainland China.
Steve Vickers, the consultancy's founder and chief executive, served for 18 years in the Royal Hong Kong Police under British administration there, and commanded the force's Criminal Intelligence Bureau.
The annual report states that the political outlook in Macau "promises stability", while the economic outlook "shows some signs of improvement".
"Five consecutive months of growth in gaming revenues, from August to December 2016, suggested that the precipitous falls of recent years are, at the very least, slowing. A shift from VIP to mass market gaming and consolidation in the junket sector has also reshaped the industry," said the report.
The Economist Intelligence Unit said in a January 5 update on the outlook for Macau, that "the continued growth" in gambling spending supports its forecast for 5.2 percent economic growth in 2017. The final five months of 2016 registered consecutive year-on-year improvements in the monthly tally of Macau casino GGR, according to Macau government data released on January 1.
A press release from ratings institution Fitch Ratings Inc, issued on December 1, said that the Macau casino market "appears poised for a long recovery".
U.S.-China relations
But Mr Vickers' firm said that any increase in political tensions between the U.S. and China could pose a risk to the firms operating the city's casinos; namely to renewal of the Macau gaming concessions particularly for the foreign-controlled companies currently in the market.
"A further concern is rising economic nationalism in China, which could seep into a debate about the renewal of the six existing gaming concessions that expire in 2020 and 2022," stated the consultancy.
"A more protectionist Beijing may wish to cultivate a national champion [in the Macau market], a stance in line with Chinese industrial policy, or refuse to countenance the renewals for foreign businesses – particularly if tensions with the U.S. rise."
U.S.-President-elect Donald Trump and some of his nominees have recently expressed tough rhetoric regarding China. Rex Tillerson, Mr Trump's nominee for the post of U.S. secretary of state, said at his confirmation hearing in Washington D.C. on January 11 that China should be barred from access to artificial islands it has built in the South China Sea.
Reuters news agency quoted Lu Kang, China's foreign ministry spokesman, as saying on January 12 that he couldn't make any guesses as to what Mr Tillerson was referring, and would not answer hypothetical questions.
But Mr Lu noted China's right to carry out what he referred to as "normal activities" in its sovereign territory in the South China Sea was "indisputable". Reuters said he didn't elaborate.
Mr Trump suggested in an interview published on January 13 by the Wall Street Journal newspaper, that his administration would not necessarily remain committed to the 'One China' policy with regard to Taiwan.
The English-language mainland newspaper China Daily said on Monday that Beijing would "have no choice but to take off the gloves," if Mr Trump persisted with such an approach after taking office.
Steve Vickers and Associates noted in its risk report for 2017 with regard to Macau: "A final, and understated, threat is terrorism. Macau represents a unique agglomeration of Chinese, American and Jewish interests, engaged alongside triad societies [Chinese organised crime] in an activity [gambling] that Islamists deem sinful. Worse, the city is vulnerable."